The dos and don'ts of crafting excellent class discussions and responses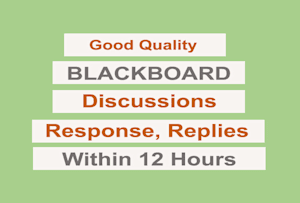 Introduction
Classroom discussions and responses are an interactive learning practice in which the professor and students  give views on an already covered topic in their course work. The purpose of these discussions according to edutopia.com is to improve the student's thinking processes and abilities, learning, understanding the course, problem solving and or literary appreciation. 
Recently many educational institutions have adopted a more online based approach in their systems especially during this Covid-19 era. These class discussions and responses do contribute to your grade and for this reason it is important to ensure that you not only participate actively but effectively.
This paper will give you a few pointers on the dos and don'ts of crafting excellent class discussions and responses that will help you attain better grade.
The Do's of good discussions and responses
Provide relevant information on the topic. The best way to ensure that you stay on topic is by reading through all the posts before responding. Keep rereading the discussion forum prompts and topic in order to answer and respond accurately.
Keep your posts brief and to the point. Brevity is a win for you. Mssu.edu advices that breaking long postings into shorter easier-to-red paragraphs is the way to go.  Avoid being too wordy as most people lose interest and can get bored easily.
Use relevant and accurate citations and references. Bringing in a third party resource to support your points is a plus only if they are relevant to the topic and they give a much needed boost and credibility to your views.
Answer all follow up questions concisely paying attention to the instructions provided. Be especially keen on those asked by the instructor as they are almost always designed to assist you in answering the questions wholesomely. Their questions will mainly address any loopholes or unanswered prompts in your posts.
Be professional. It is important that you extend the same professional courtesy you would if it were a discussion board at your place of work. Courtesy goes a long way in effective communication.
Be objective. Classroom discussions will have postings from different students. Compare and contrast each of their statements and responses carefully analyzing them. This way you will be able to give an objective analysis as a third party without bias.
Acknowledge other student's ideas whether or not you are in agreement with them. At the end of the day each of us have differing opinions, it is important to respect others' stances and refrain from overly criticizing them.
Always identify at least one positive facet of another student's work and discuss it (them) before embarking on a critique. This helps the other student to take in the criticism positively without feeling attacked.
Include relevant personal experience backed by academic research. Adding a personal touch to your responses makes it more realistic and relatable. It also shows that you understand the topic well enough to apply it to real life situations.
Portray yourself as an intelligent, dedicated student. As ascd.org advices, classroom discussions are an important avenue to showcase your academic prowess. It is not enough to just show up. You need to be an active and valuable participant.
The Don'ts
Use informal language. Avoid writing as if you're texting your peers or chatting. It is a formal discussion and as such the language used should be formal and not slang. Avoid acronyms such as IMO (in my opinion). As we said, professionalism is key.
Ignore grammar rules. For instance you cannot refer to yourself as 'i'. While it may seem trivial, proper capitalization and adherence to basic grammar rules is very important especially since it points to your intelligence and seriousness as a student.
Simply say I agree or I disagree to another student's posting. The main aim of the classroom discussions is to build up on ideas and learn. Therefore it is important to clearly explain why you agree or disagree.
Make personal attacks on another student. Chronicle.co posits that even if you disagree with someone's stance you can articulate that respectfully. You have to remain objective and provide backing for your claims without going after another student on a personal level.
Take different comments personally. It is important to maintain a clear head and avoid making assumptions based on another person's responses to our postings. Be careful not to interpret in a biased way. You may end up making assumptions that were not intended.
Use all caps in your response. Using all caps is considered yelling in written form. Who would want that?
Post late. Class discussions are only successful if the students actively participate. It is important that you establish an online presence by being active in the discussion and engaging other students and the instructor. Remember, this exercise will be considered when you are being graded.
Plagiarize. This goes without saying; original work is expected of every student. Ensure that you read through the material and resources provided so that you are in a position to give good, well thought out postings and responses.
Submit poorly thought out responses and unorganized posts. As depts.ttu.edu posits, ensure that your postings are in accordance to the criteria provided and fully rely on academic research and facts from the provided materials and resources. Make sure your points flow chronologically and logically. This way it is easy for all to understand your position clearly.
Use false information. It is important that your information be credible and proven. Using unsubstantiated information can lead to inaccurate assertions thereby misinforming the rest of the class. If one cannot find good relevant choices then you'd rather conduct further research than make up your own. False facts, citations and or references will definitely make you fail that particular unit. It is important to master these few helpful tips which will go a long way in making you successful. If all else fails, reach out to homeworkhelp 101 for assistance.
Six Reasons to Order A Homework Custom Paper
A Research Paper 101: A Guide to Mastering the Art of Research Writing
How to craft a well thought out depression research paper
Tips on Writing a Poem Analysis
How to write a Thematic Essay: Quick Hints and Tips